Welcome to Reception Butterfly Class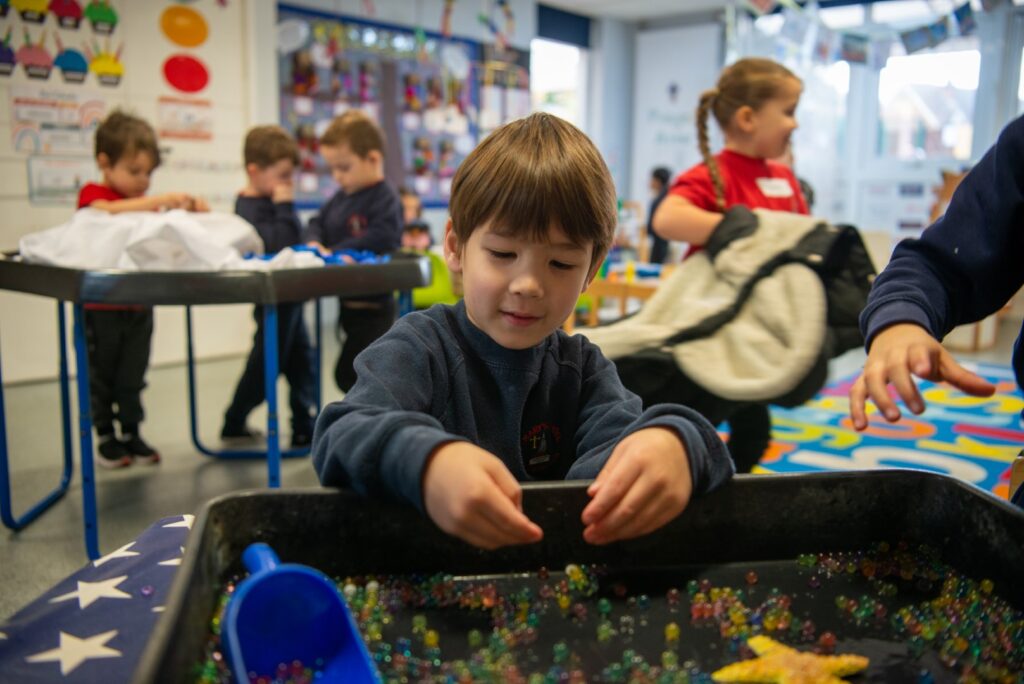 Prospective parent tours for Reception 2023 – 2024
To visit our school please contact our office on: 0208 397 95 97 or office@stmarys.rbksch.org.
Thank you to those who visited us for our last Open Evening on the 3rd October 2022, Please find information shared at this meeting below:
Here are some ideas for how you can support your child to be ready to start their learning journey with us.
Getting ready to start school​​​
To help the children settle into reception class, they will need to be able to…
• settle happily without a parent or carer
• tell grown-ups and friends what they need
• take turns to play and share when they are playing
• go to the toilet on their own and wash their hands
• put on their school uniform, coat and shoes
• feed themselves using a knife, fork or spoon where appropriate
• tell a grown-up if they are happy, sad or cross
• know that what they do and say can make others happy or unhappy
• be curious and want to learn and play
• listen and follow simple instructions
• enjoy sharing books with grown-ups.
Learning in Butterfly Class
The wonderful thing about the EYFS curriculum is that it is specifically designed to work around the interests and needs of that particular class. As we cannot know what will motivate and inspire the children as they move through the year, we have moved from fixed topics to following the interests of the children across the year.
We hold regular 'stay & play' sessions for parents to come and see what we have been learning in class. Details will be given in the class newsletter nearer to the time.
Each week a whole school newsletter is prepared with a section for each class. This can be viewed on the school website.
Copies of letters and general notices will be displayed on the Parent Board outside.
Texts and parent mails are also often sent out from school, please make sure your details are kept up to date so that you don't miss out on key information.
Snack café
*Fresh fruit and milk are provided daily, and children have access to their water bottles throughout the day.
*Children are encouraged to serve themselves when the snack café is open, in order to develop their independence.
*Throughout the year, other options may be made available such as toast, cereal or rice cakes.
*Children are provided with a daily 'allowance' (of toy money!) and can choose to 'buy' an additional snack. The children love it, and they are learning maths without even knowing!
Starting each school day with a smile!
*On the way to school, talk to your child about all the exciting learning they will be doing…
'I wonder what you will play with today.'
'Mrs Davies or Mrs Sage will have lots of fun learning in the classroom for you'
'I wish I could have a go on the scooters in the playground!'
*Remind them of the friends they will be seeing and what they might play with each other.
*When it is time to drop them off, say goodbye, tell them you have to go but you love them (give them a hug/kiss/high 5)
*Drop off with a smile (even if you are struggling to fight back the tears). Assure them that they will have fun at school, learning new things. If you look scared or anxious it will make them feel unsure about the situation – be the best actor you can be!
*If your child is upset, it is helpful to remind them of what they will do after school – going to the park, off to the high street, nanny and grandad picking up. Saying this in front of the teacher/teaching assistant will also help them to talk to your child about what they have to look forward to, 'I heard you are going to the park after school. I love the swings, what is your favourite thing at the park?' This helps to distract your child and gives them something positive to think about.
That's not all…
Please find attached some additional information which will help you to prepare for the new school year:
Parent checklist
School uniform
Lunches at St Mary's
Our PTA (Parent Teacher Association)
A parent guide to promoting early learning at home.
Activities to help your child prepare for Reception can be found via the EYFS Home website.
If there's something missing that you want to know more about, then please do contact us via the school office and ask to speak to one of the EYFS or Senior Leadership Team. We are all here to help!